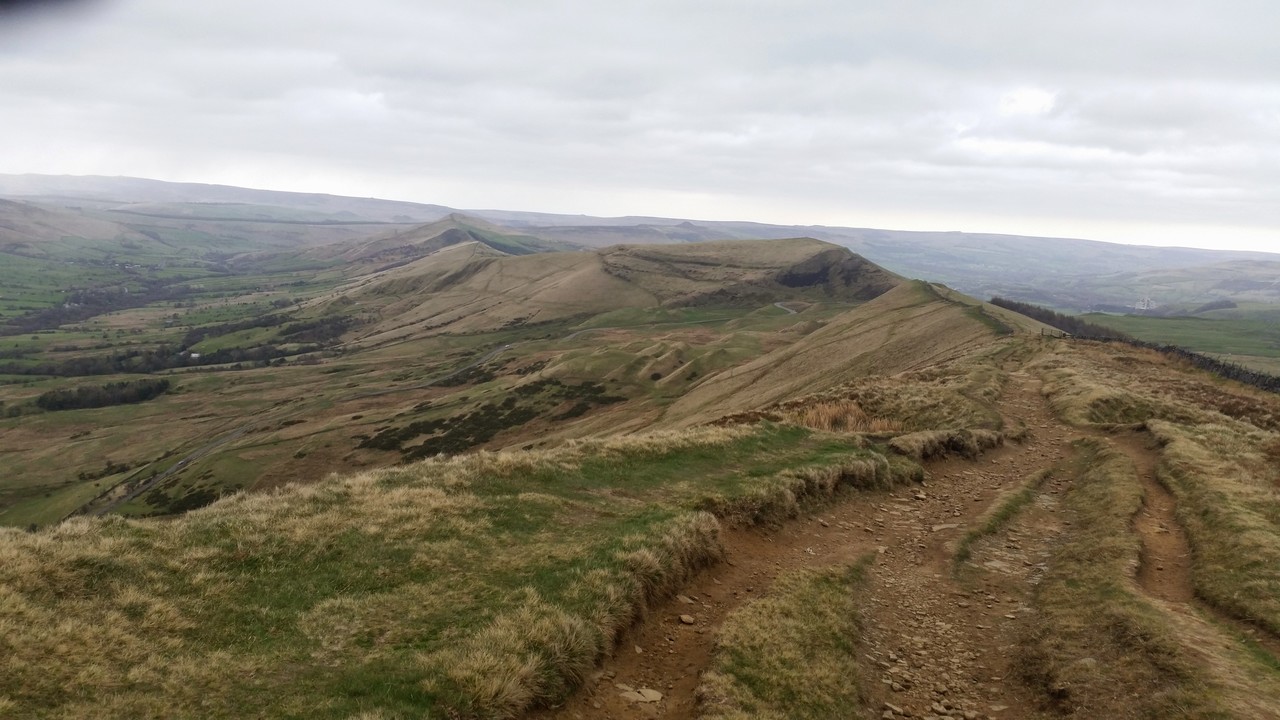 I think the weather does this to me on purpose.
So how did last week look? LIKE GLORIOUS SUNSHINE! So I made a spontaneous decision on Saturday evening to go out to Mam Tor on the Sunday morning. The plan was simple… wake up at 6am, leave at 7am, arrive at Edale for 8am, hot foot it for five hours around Jacob's Ladder, Brown Knoll, Colborne, Lord's Seat, Mam Tor, Hollins Cross, Ward's Piece, then down and back to Edale. Jump in the car, run home, enjoy a decent dinner as things went live.
So here's what really happened.
Awake somewhere around 9am. Smurf. Grab breakfast, grab bag, head out get to Edale at 10.15. Turn up at main Long Stay car park, find out it's FIVE POUNDS, IN POUND COINS. Check change, realise I only have two quid. Epic fail. Go to rail car park. That's two pound fifty. Well done idiot. Find "charity car park" with no attendant. Free parking. Full. Go to visitors centre, have a natter with nice lady. There's a cash machine in the village shop, although apparently it's often empty. Check village shop, find cash machine. Cash machine is not empty, SING ALL PRAISE. Withdraw money, have small heart attack at the charge. Buy packet of wine gums. Go back to rail car park, take one last look at the free car park. Find space. Park up. Grab bag, head North to the start of the Pennine Way. Easy walking for the first bit, although a bit windier than I would like. Make it to Jacob's Ladder. Ascend Jacob's Ladder. Wonder why the hell that seemed like a good idea. Jeez, that thing's brutal on the knees. Get to top and meet small group with no map, and just some water and a few biscuits between them. Have a natter, make sure they're ok, wander across to Brown Knoll. Disappear in to a peat bog. Managed to keep my shoes. Grab a bearing and start walking over Colborne. IT'S A SMURFING PEAT BOG, AND IT CRAVES HUMAN FLESH. Successfully get across whilst still keeping both my shoes. Wind picks up a bit on the approach to Lord's Seat.
Hail. Again.
Add waterproofs, keep wandering across to Mam Tor. That wind is a bit … strong. Cross the road, and start up the path to Mam Tor. Few hundred meters in the wind kicks it up quite a few notches. Sit down. It's safer. Because I'm bloody minded, start making progress up in 50m increments. Shortly from the trig point, spot a few people clinging to the trig point. Something smells wrong. Couple coming the other way gets to them first, there's a baby in a backpack, and they're stuck. We all decide to walk them off, which at several points requires two people to stabilise the person holding the baby. It really was windy. And rainy. Lots of that too. Get them back to the road and their car. Baby is cold and wet, but fine. Have a natter with the other couple, we all decide we might as well walk off down to Edale. Have a natter, find out they're also Boltonians. Westhoughton.
It's a small world.
Get back to the car park, peel off the layers, drink my flask of tea and a few cereal bars and then drive home.
This week? Oh look, glorious sunshine!