For our honeymoon, Cat and I spent twelve days in Florida (awesomely paid for by friends and family). Whilst there, we picked up two mugs from a target store.
These mugs: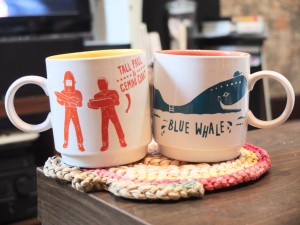 We bought them because they were cheap (a few dollar), colourful, a good size and were adorned with funky designs. They came back with us from Florida, and they're now our daily mugs – a little reminder of our honeymoon.
I was curious about the designs on the mugs: "The Blue Whale", "Tall Paul" "Gemini Giant" sounded like quite specific things. So, with the aid of the internet I did a little digging, and indeed they are. All are attractions on Route 66. The Blue Whale is a waterfront structure on a pond, originally built as a wedding anniversary present. The area was expanded with picnic tables and opened to the public. Tall Paul and Gemini Giant are Muffler Men, large fibreglass characters used for advertising. The basic figure was a lumberjack holding an axe. They were customised for various uses, including Tall Paul, who holds a giant hot dog and the Gemini Giant, who wears a space helmet and holds a rocket. Both are on Route 66.
We're now considering a trip on Route 66.