What to do with a large quanitity of root vegetables? Well, the only logical answers are to stew it or casserole it. Here's my basic recipe.
Ingredients
500g Shin Beef, Diced
2 Carrots
1 Parsnip
2 Onions
Fresh Rosemary
Bay Leaf
Beef Stock Liquid
Directions
In a frying pan, heat a little oil, fry off the beef and onion with a little rosemary. Add to a casserole dish.
Scrub/peel carrots and parsnip. Add to casserole dish.
Add rosemary and bay leaf.
Add enough made up stock from liquid to cover meat to cover contents.
Cook at 200oC for 1 hour, then drop to 80oC continue cooking for 1.5 hours.
Mix 1/3 suet to 2/3 self raising flour for as many dumplings as you want. Add a little salt, and rosemary if you wish.
Add water to the dumpling mix until a sticky, moist mixture is reached.
Spoon mixture into casserole dish. Either leave of surface or push under surface.
Turn oven back to 200oC and return casserole dish to oven for 30 minutes.
Just before adding the stock and committing to the oven: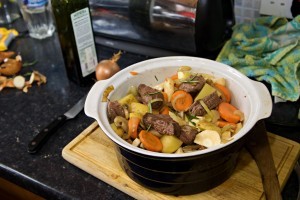 Fresh rosemary – no garden or kitchen should be without it: